Description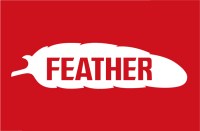 Feather Professional Blades are made for the Artist Club series shaving tools which include the SS and DX models.  These Professional series razors are one of the best all around razor blades for average to moderate beard growth.  The performance of this shavette type razor is equivalent to a 4/8 and possibly a 5/8 size fixed blade straight razor without disposable cartridges.  You can expect roughly around 4-6 shaves out of each cartridge if you like a super fresh feeling blade which slices hair quickly and effortlessly.  Some have opted to use each blade for more than 12 shaves as these blades are very sharp and don't get dull very easily.
Made in Japan and crafted by Feathers quality assurance, professionals around the world have come to rely on the consistency and sharpness of these blades because they provide excellent performance and value.  Gain significant flexibility with the Feather Artist Club Professional Blades as they glide across your face with optimal shave closeness.  These blades (20 pack) come in a solid black and metal container which have an easy slide off mechanism that is used for safe storage and easy installation.
To change Feather Artist Club Professional Blades, you will first want to make sure your hands are dry.  You will want to squeeze the top part of the razor and slide the guard off.  Once the guard is apart and separated from the SS or DX series razor, the blade will drop right off and will be ready to close again.  Once the guard on your SS or DX series is closed, you can notch the container right to your Artist Series blade  by lining up in the hole of the blade container to the razor blade in a complete hands free motion.  This avoids cuts and handling of the razor blade which is always better than manually entering blades in your shaving device.
Try these Professional blades for your Feather razor today and never look back at a dull shave again.