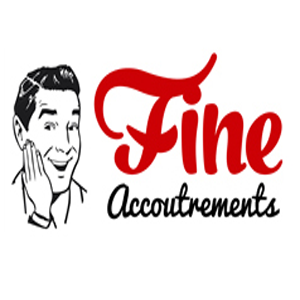 Fine Accoutrements is a brand that was created by a regular guy in 2005. Todd Cerami, a finance professional by trade, came across information that intrigued him about wet shaving. At the time, he didn't know what "wet shaving" was but started to research and understand the need for providing better men's shaving essentials. After really becoming infatuated with the process of wet shaving, Todd started to realize that this form of shaving was also much less costly compared to the traditional cartridge razors most use.
As any business owner who starts a new venture, Todd had his work cutout for him and started a quest to find the perfect aftershave. After months of research, trial and error by finding the perfect mix, Fine Accoutrements was born. Fine Accoutrements, generally abbreviated for just "Fine" has a catchy brand name, really great products and a story that is inspiring for most to read. Once Todd launched his business and started selling his products online, the rest of his success speaks for itself. Mr. Cerami left his highly respectable finance career and decided to perfect the Fine brand by devoting 100% of his effort towards the growth of this company.
Fine currently offers different variations of shaving soaps, aftershaves, shaving brushes and more. One of the most popular brands within the Fine catalog would be the American Blend scent. This classic shaving scent has a cool, fresh, soapy scent, which is masculine and tantalizing. You will immediately notice this fresh scent when you lather up some of the Fine shaving soap with your favorite brush.
Fine keeps its products simple and pleasant for it's customers. There are no claims or mentions of how the Fine product line will improve your skin. After all, these are not skin reproduction products. Fine Accoutrements provides quality wet shaving essentials for men who want to smell and feel like a man while gliding through the day feeling fresh and clean. Most of the Fine aftershaves have a simplistic design and only have 4 ingredients in them. So you don't have to worry about complex or mystic ingredients that are produced in certain skin care products.
Be sure to check out some of our Fine Accoutrement products we offer and let us know if you have any other specific products from Fine you would love to have us carry.