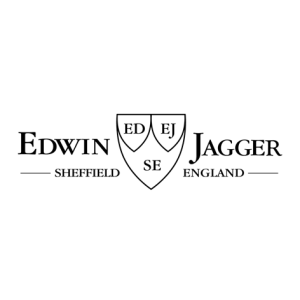 Established in 1988, Edwin Jagger was created in Sheffield, England by Neil Jagger who is still the president of the organization today.  "A lot has changed with Edwin Jagger since we started" states Jagger.  The company is a global leader in the wet shaving arena and has expanded its product line from a few products to hundreds of quality products brought to you from around the world.
Edwin Jagger, often abbreviated as "EJ", has extremely high-quality safety razors with some of the most exotic finishes we have ever seen.  These are all presented with reasonable price points as well so you can experiment with a few different razors.  If you want to enjoy the journey of wet shaving and like the look of a luxurious shaving tool, you need to take a look at Edwin Jagger safety razors.
Shaving brushes from EJ are considered to be excellent, especially the high-end SilverTip line of shaving brushes.  SilverTip hair, which is the lighter colored and the more luxurious hair from the Badger's head, is used in the top shaving brushes in the world.  Edwin Jagger presents quality brushes with these hair fibers which can be found in the EJ Model 1EJ467SDS. They also offer best and super badger hairs for a quality alternative to the highest quality SilverTip brushes.
Edwin Jagger also produces excellent scents they have been very popular for such as their sandalwood and Limes & Pomegranate scents.  Making virtually all lines of product for men's grooming and essentials such as shaving creams, soaps, aftershaves, pre-shaves and more, you are guaranteed to find just the right EJ product for you.
As a trusted and authorized Edwin Jagger retailer for many years, you are sure to find our offering and enjoy their products for a long time.