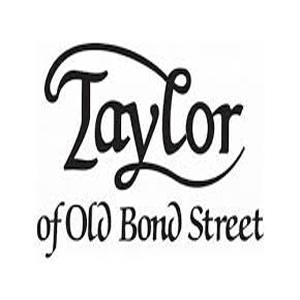 Established 1854 in London, Taylor Of Old Bond Street, also known as TOBS, has been an iconic UK brand of shaving essentials that have taken the wet shaving community to levels of sheer shaving bliss.  Popular for their vast variety of shaving essential scents such as Sandalwood, Eton College, Jermyn St, St. James and many more, Taylor Of Old Bond Street will definitely have the English scent you are looking for.
A family business run with integrity and a loyal following, TOBS provides high-quality ingredients in their shaving creams, soaps, pre-shave, aftershave and other products.  Ranging from products with light, fresh scents such as their Rose shaving cream all the way to their masculine scents made for a "Man's Man" such as the Cedarwood line of products.
What makes Taylor Of Old Bond Street unique is how they pair up their shaving essentials with the same scents across their product line.  So for example, if you are a really huge Sandalwood fan, TOBS will have a Sandalwood Pre-Shave solution, Aftershave, deodorant, hand soap, talcum powder and much more available for you.  This way you can stick with what you like on all your product ranges, not needing to mix and match any scent if you don't want to.
Starting as a smaller organization with only one brick and mortar retail store in London, this original retail location on Jermyn St has become a landmark for shaving fanatics who live or visit the United Kingdom.  A must visit location for anyone who is interested in wet shaving or has been wet shaving for years, you are sure to be greeted by a smiling face and a room filled with different scents which will please your nostrils instantly.  Taylor Of Old Bond Street's product line has definitely grown tremendously over the years so it won't be uncommon to get lost in the different scents and applications of shaving essentials they offer.
One recommendation is to try their flagship scents such as the Sandalwood, Eton College, and Jermyn St and see which one is perfect for you.  We must warn you, each of these scents are fantastic in their own way so choosing the best one will be challenging.