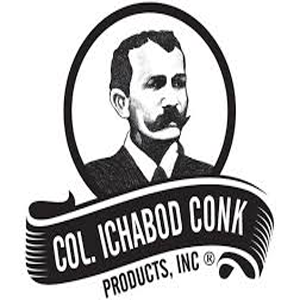 Colonel Ichabod Conk had love on his mind when this brand was created. Colonel Conk moved to Albuquerque, New Mexico where he met a woman who owned several barber shops and went on to marry her. He subsequently grew fond of the trade of shaving and was successful in obtaining a close shave. Colonel Conk began assisting his wife with shaving customers, which lead him to decide to package the products that he and his wife would use every day to obtain a nice shave. This is when the brand was born and Colonel Conk started building his empire.
The business continued to grow until Colonel Conk passed away in 1898 and his business also ceased to exist. Fortunately, Colonel Conk's name and likeness continue to thrive as the brand speaks for itself in providing all the essentials for a smooth shave.
Today, the brand has built a world known reputation for the quality of their products and the proprietary glycerine shave soap.  The brand has expanded into may luxury shaving products that include shave mugs, shaving brushes, balms, different razors and much more.  Col. Ichabod Conk Products, Inc. also provides gift sets that are a perfect kit to get that luxury shave. The shave soap includes a variety of scents and provides a thick lather that can be a great cushion for a smooth shave.
When there is a passion for a product, its performance will forever surpass expectations. Colonel Conk started his shaving journey with love and his legacy has been continued through the years providing each and every consumer with the same passion. With quality products and a story like this, Colonel Conk is not one to disappoint. Check out their gift sets and products on our site for a perfect luxury shave.