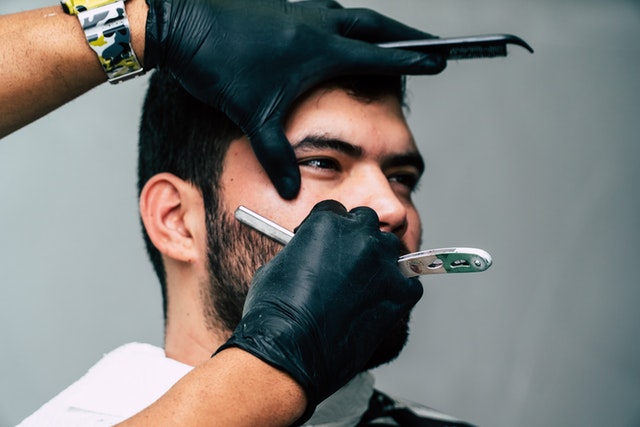 It feels good to like the face in the mirror. Taking care of your personal grooming can make a huge difference in your self-confidence and in turn, your quality of life. A lot of men struggle with finding a style that's their own or don't know where to start. In this article, we'll look at five great tips that can help you look and feel like your best self.
1. Take Time on Your Appearance Every Day
Little is more devastating to your self-confidence than being disheveled and looking like you're coming off a three-day bender on your way to the coffee shop or the store. Wrinkled clothing, matted hair, we've all been there, you know the look. The good news is that tidying yourself up doesn't have to be a daunting task. Spending a few minutes each morning in front of the mirror can make a huge difference.
Your hair is a great place to start. We'll touch on hairstyles later when you've got the cut you like. Focus on keeping your hair healthy for now. It's important to keep your hair clean, but many shampoos contain parabens and other ingredients that can strip away helpful oils that your skin and hair need. This can leave your hair dry and possibly cause an itchy scalp and dandruff. Try to find a shampoo that's free of dyes or parabens, and see if using it every other day helps you to maintain a healthier head of hair.
Another simple thing to keep in mind is dental hygiene. Having bad breath or things stuck in your teeth is embarrassing and preventable. Brush your teeth after each meal and try to floss every day—it will do wonders for your smile. If you're a big coffee or tea drinker, there are many remedies to bring the sparkle back to your smile, like whitening pens or toothpaste.
Finally, be aware of your body odor. Make sure to apply an antiperspirant deodorant if it's hot out, you're exercising vigorously, or if you're just prone to heavy perspiration. Then find a cologne that you like to give you that "signature scent," but don't apply it too heavily. A dab on the neck and wrists will suffice. Body odor is something that others tend to notice pretty quickly, and nothing destroys self-confidence quite like being told you smell bad.
2. Change Up Your Hairstyle!
Is your style working for you? If not, it may be time to make a change. Your hair is one of the first things people will see and notice about you. If you've been walking around with the same haircut for a long time, consider switching up your hairstyle. A fresh new haircut can boost your confidence and do wonders for your personal appearance. Check up on what's in style, and take a look at some of the most popular men's hairstyles of 2022.
Once you've found a style that suits you, make sure to properly care for your hair as discussed above. You don't want to get a great haircut only to have poor quality products and bad grooming habits make it look less than stellar. If you find you're having trouble growing full hair for the look that you're considering, or you feel that your hair is too thin to achieve the style, you may want to talk to your doctor about a solution like topical minoxidil. It's not uncommon to experience thinning hair as you get older. Treating these issues early on can help to combat the effects of aging and male pattern baldness, and help you achieve the style you want..
No matter the type of hair you have, from short, neatly trimmed cuts to long flowing hair, there is almost certainly a style that fits you. Ask your barber for suggestions or try a few different looks if you're not sure!
3. Try Growing a Beard!
If you've been browsing around and looking at articles on personal grooming, you've probably heard a lot of differing opinions on this subject. Some will say to ditch the beard, while others will encourage short, neatly trimmed facial hair. So who's correct?
Having a beard will be more work; that much is for sure. But overall, this is going to be up to personal preference. Some people don't like the feeling of facial hair or simply don't like the way their face looks with a beard or mustache. However, if you've never tried growing a beard, you can't know what you'll look like with one! Fortunately for you, we've broken down the positives and negatives of facial hair and whether or not a beard is right for you.
If you do decide to try growing a beard, make sure that you keep it clean, styled, and well-kept. Letting your facial hair grow wild will only add to a messy appearance.
4. Take a Closer Look at Your Face
If you like your hairstyle and you're satisfied with your facial hair, it may be time to take a closer look at your complexion. Is your skin clear and smooth? Or do you have acne and bags under your eyes? If you're serious about looking your best, taking care of your face is a crucial part of your grooming routine.
One of the most important components of good skin care is keeping your hands clean. Whether you realize it or not, you touch your face fairly often, and the dirt and oils on your hands can clog the pores on your skin and give you an oily complexion or even breakouts. When washing your face, pick a good cleanser that fits your skin type, be that oily or dry. Try using warm water rather than hot, as hot water can open up pores too much and cause them to fill with oils and debris. If you suffer from dry skin, you'll want to stick with a cleanser that has a moisturizer. If you have a lot of oil and are prone to breakouts, you may want to look into a cleanser with salicylic acid.
5. Change Up Your Wardrobe
Have you been wearing the same clothes for the past few years? Quarantine has caused a lot of us to not put too much thought into how we dress on a daily basis, especially for those that work from home. Now that the world is starting to open back up and return to normal though, you don't want to be wearing that same t-shirt and jeans you've had since 2016. It might be time to upgrade your wardrobe. There are a lot of options to choose from, but the process doesn't have to be daunting. There are a lot of great resources, including sites that let you choose what you like and suggest outfits for you based on your preferences and tastes. One of the great things about style trends today is the vast variety of clothing that's considered 'in style.' From classy '60s style blazers and button-ups to the jeans and flannels of the '70s all the way to the argyle sweaters of the 80s. If you can rock it with confidence, it's probably stylish. You don't have to spend a ton of money either; try out thrift stores and consignment shops to find a look that suits you and wear it with pride.
One of the best ways to feel good about yourself is to take care of your physical appearance. It's a great feeling to look in the mirror and like what you see. With people spending less time outside and going to social events, the last couple of years has started to make people think less about personal grooming. The days of 'clean shirt, pants optional' are coming to a close. However, if you want to feel your best, then you'll want to look your best.