Description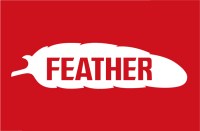 Feather makes high quality shaving essentials and has done so for almost 100 years.  If you want a unique razor and love the style of old Japanese shaving tools, then you must check out the Feather Artist Club SS Japanese Razor in Black.  Compared to the similar artist club foldable razor, this Japanese style shaving razor has a fixed handle which doesn't fold and is made of a silicone resin which provides a sturdy feel when wet shaving.  Designed with a shorter handle which some consider has better shaving control than a standard straight blade handle, the Feather Artist Club SS Japanese Razor will quickly become your favorite shaving tool in your arsenal of wet shaving supplies.
Since this razor has an open shavette style blade, you will always have a super sharp blade at your disposal which will provide irritation free shaving in addition to being the best way to save money on expensive cartridge razors.  Made of stainless steel, this razor's blade could be changed by squeezing the top portion of the blade while the razor drops right out.
Feather makes different intensity razor blades for this razor and we highly recommend the Feather Professional series cartridge which is one of the more aggressive razors blades available for this Japanese razor.  These blades are very easy to change and dispose of when they get dull which doesn't happen very quickly at all.  Being that Feather blades are one of the most sharpest and most aggressive razors in the professional beauty industry, most razors will last at least five shaves without needing to be replaced, depending on your beard growth of preference course.  The durability of a fixed handle will really come in to play if you are looking for a high quality razor which will last decades.  Give this unique razor a try and you love the performance with every pass. Weight:44g.