Safety Razor Set For The Holidays
The holiday times are approaching quickly and you may be asking yourself what the best gift would be for a man or if you just want to treat yourself for the holidays?  Well instead of a shirt, tie or socks, you may consider a high quality yet affordable Safety Razor Set from OriginalShaveCompany.com.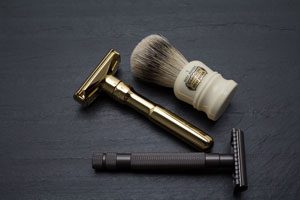 We offer a very unique build a bundle program which allows you to choose your type of shaving razor, shaving brush, pre-shave solution, shaving cream or soap, after shave, blades and much more.  With this unique bundle, you save off the price of each item you add to your package which ends up being the best deal for holiday shopping season.
The Original Shave Company offer brands from all over the world such as Edwin Jagger, Taylor of Old Bond Street, Merkur, Dovo, Simpsons and many more.  Buying your very own Safety Razor Set will set yourself apart from the rest of the overdone and redundant gifts given during the holidays.  Not to mention, classic shaving with a safety razor is a very popular and a very affordable method of shaving for men since the cost of the razor blades are astronomically less than cartridge razors.
If you need assistance in choosing the right gift for that special someone, you can also contact us toll free at (800)769-4935 and our representatives are more than willing to explain the right shaving application for your needs.