How to identify the best shaving brush
When it comes to wet shaving, the shaving brush is simply the most indispensable tool you can own. Notwithstanding the numerous recent shaving cream and gel developments, of which some even come in pressurized cans and are marketed as modern brush-less creams, there is still a big difference between using a shaving brush to apply lather and using not using one at all.  Many men believe that a shaving brush is not needed in the wet shaving process.  Read more to find out why these men are misinformed about the many benefits of the shaving brush.
The Benefits of using a Shaving Brush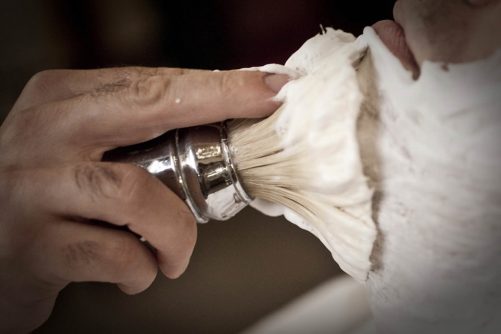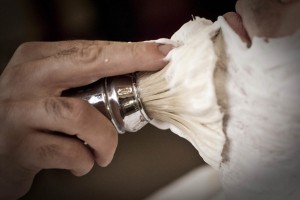 A shaving brush helps to create a richer lather with water which helps create a cleaner shave by opening up more pores in addition to lubricating the skin. This application reduces razor dragging and skipping which could create harmful bumps and spots on the human face. Using a shaving brush to apply the lather in a circular motion helps lift facial hairs better than when the cream is applied by hand which reduces the probability of painful ingrown hairs.  Using a brush helps to gently remove old dead cells from the outermost skin layer. The best shaving brush, which we will get to shortly, will therefore combine some or all of these benefits.
The parts of a Shaving Brush include the loft, the knot and the overall height. The knot is the bundle of bristles while the loft is its length. When choosing the best shaving brush for yourself, you may want to consider the two types of shapes of the loft tips and which one you may prefer. This is because some of the tips are spread out wide like a fan and others are bulb shaped.
The Different Types of Shaving Brushes
There are basically two types of shaving brushes depending on the material of the knot. There are natural brushes which include boar, horse and badger hairs and there are also synthetic brushes which are made from non-natural bristles.
Synthetic Shaving Brushes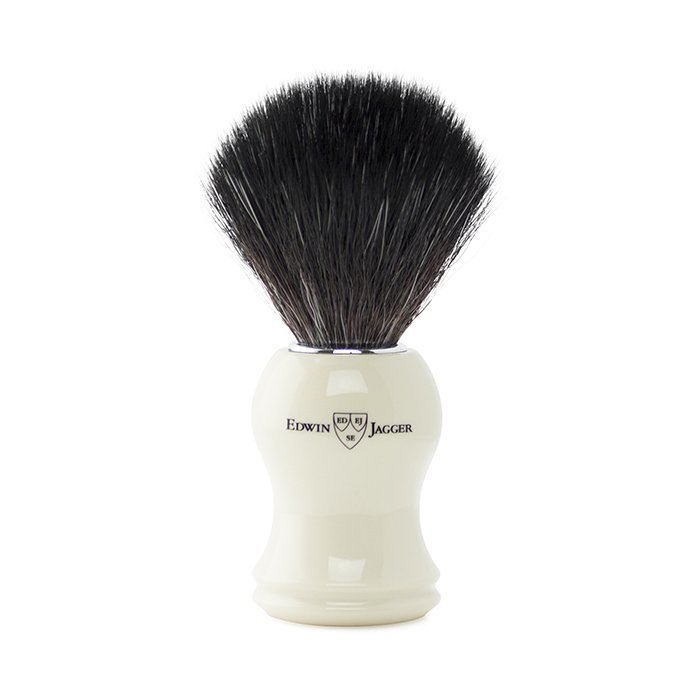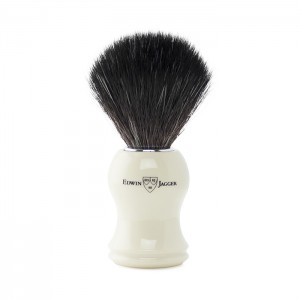 Synthetic shaving brushes are normally made from nylon but can also be made from other synthetic materials during the manufacturing process.  Synthetic brushes can be the best shaving brush for some people, like vegans who prefer them to brushes made from animal parts. Performance-wise, synthetic hair brushes rank better than boar brushes but below badger brushes.  Synthetic brushes do have their advantages and the following is a short list of the pros and cons you will be interested in knowing regarding synthetic brushes.
The Pros of Synthetic Shaving Brushes
– Durability
Synthetic fibers are normally stronger than natural fibers and can therefore last for much longer.
– Quick Drying
After washing, synthetic fibers will dry much quicker than natural hairs.
– Animal Rights
Using synthetic fibers gives a vegan or any other animal friend peace of mind.
The Cons of Synthetic Shaving Brushes
– Natural Feel
Synthetic bristles generally lack the softness at the tip that most natural bristles have. Though some can be quite soft at the tips, their softness is still less than those of natural fibers.
– Water Retention
Synthetic brushes are insensitive to water and can therefore not hold moisture for a long period like natural fibers.
– Backbone Feel
The backbone feel of a natural fiber brush can be varied by soaking it in water but this is not the case with synthetic fabrics because they are insensitive to water.
Boar Shaving Brushes
Boar brushes are made from bristles taken from boars. They can be quite coarse at first, but they tend to get softer with time. They normally retain less water than badger bristles and no matter how much softer they get, they always remain harder on the skin than badger bristles. However, the very low prices of boar shaving brushes do make them attractive to some people.
Horse Hair Brushes
Shaving brushes made from horse hair are usually much softer and less coarse than boar bristles. They are still stiffer than badger bristles anyway and their colors are as varied as horse colors are. They are simply cut off from the tail of the horse, therefore no animal is actually harmed for their production.
Badger Brushes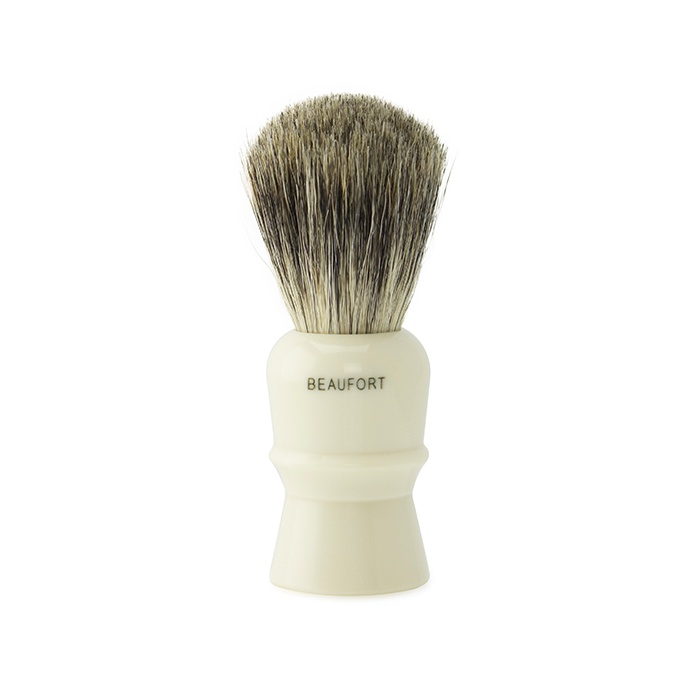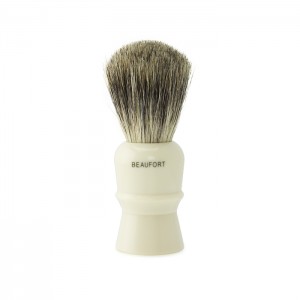 Badger bristles are considered the best material for making shaving brushes. They can retain more water and make more lather than the other materials. Plus they are quite soft and have a gentler feel to the skin than bristles from other materials. The best shaving brush for most non-vegans are usually badger brushes. There are four grades of badger hair, depending on how fine or coarse they are, which is mostly as a result of the part of the badger that the hair came from.
– Pure Badger
Pure Badger hair is the most widely available grade of badger hair. It is made from a large percentage of the badger's body and represents the lower grade of badger shaving brushes. They are the coarsest and stiffest.  However, these badger brushes do provide a great beginners option for someone who is just starting out with wet shaving.
– Best Badger
Best grade badger bristles are finer and softer than the pure grade bristles. The colors range form gray to a lighter brown and they can hold much more water than pure grade bristles. They are taken mostly from the belly areas of the badger.  Another great option for someone who wants a great shaving brush for a super affordable price.
– Super Badger
Super badger grade of hair is even more finer and softer than the best grade. They are obtained from the back of the badger and are as such pretty rare.  They usually have a black banded midsection with whiter tips than the pure and best grades.
– Silver-tip Badger
Silver-tip badger hairs are obtained from the neck of the badger. They are the most rare badger hair segment compared to the other grades and also more expensive. Silver-tip bristles are the finest and softest grade of badger hair for shaving brushes. They are used in manufacturing the best shaving brush that a man could buy.  If you demand the best of the best and are willing to pay for it, you can get the Silver-tip badger brush and be a very happy wet shaver for a very long time because this is the best shaving brush hairs money can buy.
6 Best Shaving Brush Options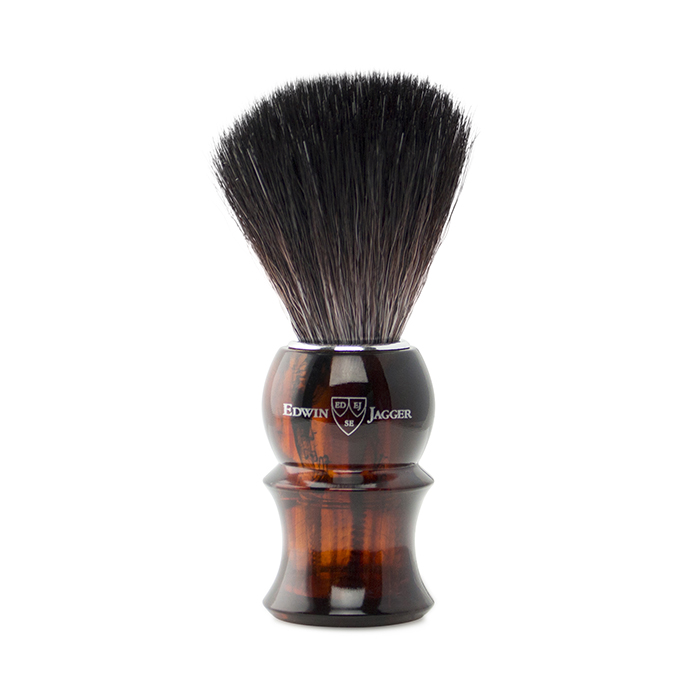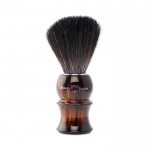 1. Edwin Jagger 21P13 – Synthetic Brush with Faux Tortoise Shell
The Edwin Jagger 21P13 is a high quality synthetic shaving brush with a beautiful brown faux tortoise shell handle. It is perfect for beginners and the best shaving brush for vegans and other animal friends.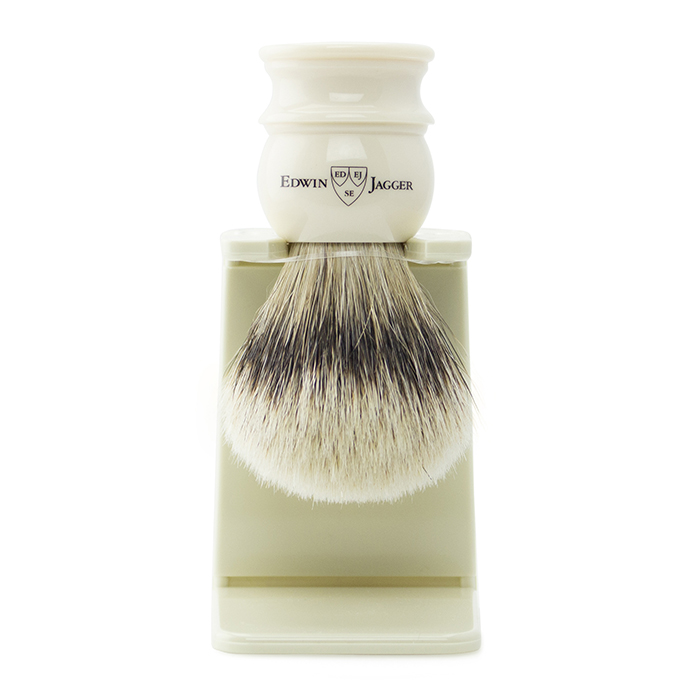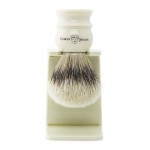 2. Edwin Jagger 1EJ467SDS – Silver-Tip Badger Brush with Stand
The 1EJ467SDS from Edwin Jagger is made from the highest quality silver-tip badger bristles. This brush comes in a beautiful faux ivory handle and a matching ivory stand. If you really want the best shaving brush that you can afford, you have found it here.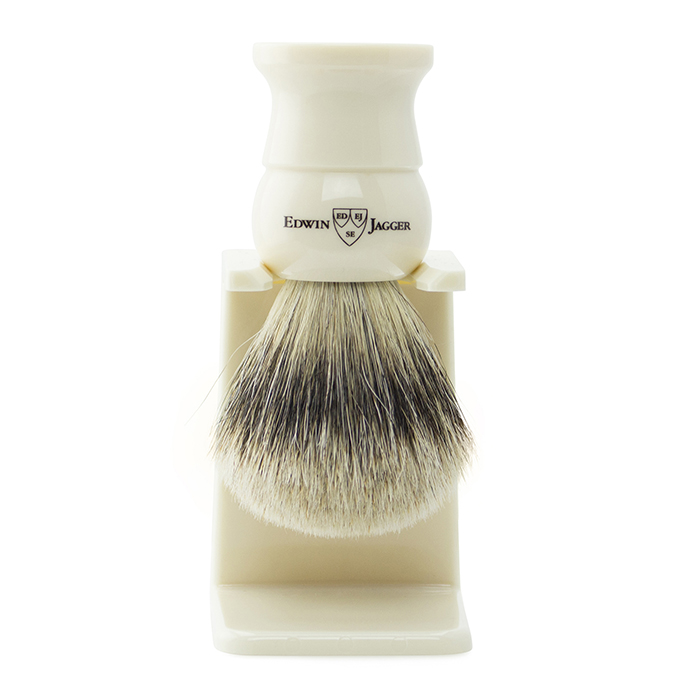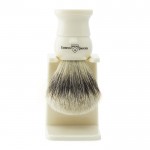 3. Edwin Jagger 1EJ287SDS – Super Badger Shaving Brush with Stand
The second best shaving brush in this list is this super badger brush from Edwin Jagger. It comes with its own standing kit and in a faux ivory handle.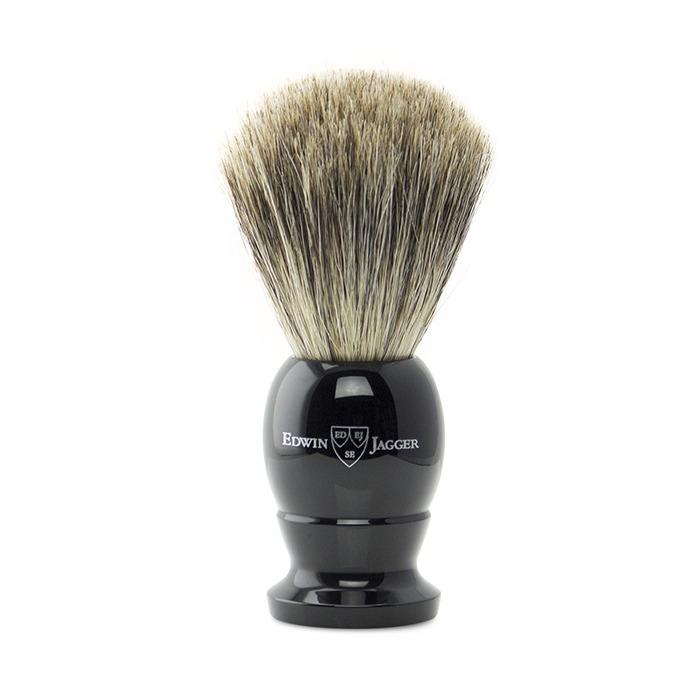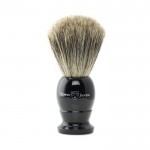 4. Edwin Jagger 1EJ876 – Ebony Best Badger Shaving Brush
The Edwin Jagger 1EJ876 is a very cost effective shaving brush of the best badger grade. Though not as expensive as the previous two products, the best badger grade still offers some considerable quality. This brush comes in a faux ebony handle.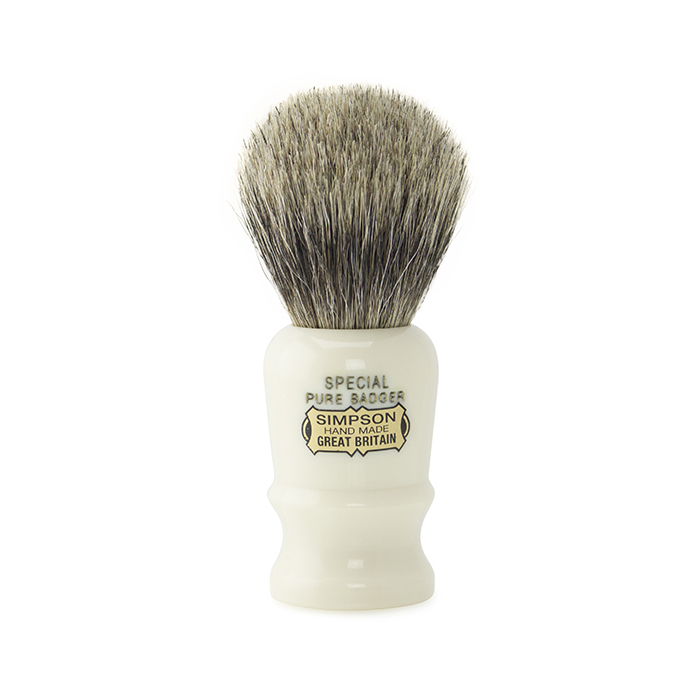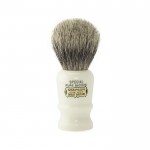 5. Simpsons Special S1 – Pure Badger Shaving Brush
The Special S1 is a high quality pure badger brush from Simpsons, a well renowned brush maker. Combining a good price with a good quality brush, this product offers great value for the money.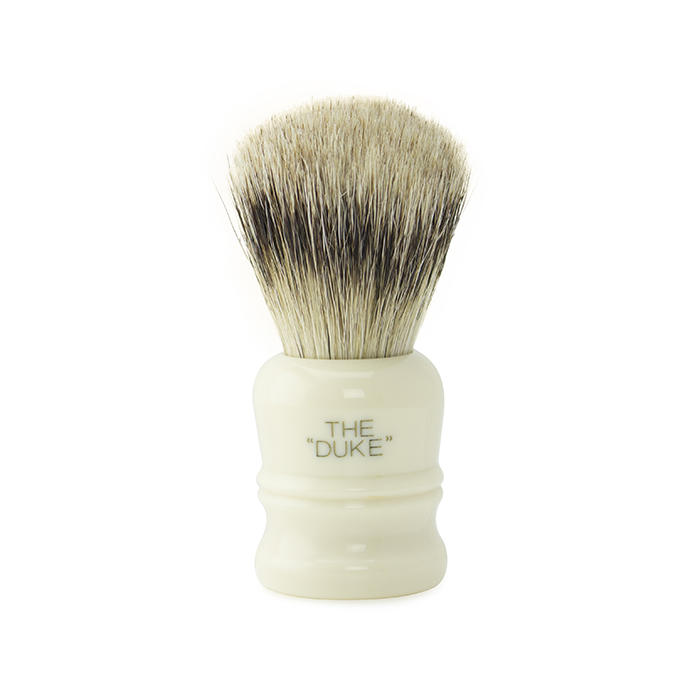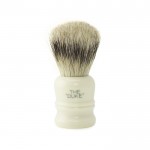 6. Simpsons Duke D1 Best Badger Shaving Brush
The Duke D1 from the Simpsons shaving brush line is a thick handled high quality shaving brush which is made to please during the wet shaving process.  This high quality brush is one of the best sellers today and continues to attract wet shavers all over the world from it's unique look, feel and design.
Conclusion
The winner is simple. The best shaving brush if money isn't an option is the silver-tip badger brush. However, if you would like to spend less money on a brush since you are just starting out with wet shaving or want to add a great cost effective brush to your shaving tools, be sure to try any of the pure or best badger brushes mentioned.  Ultimately, it comes down to preference so don't overthink the brush options too much.  Try one brush and jumpstart your journey today.  If you have questions about this article or any of our products, please feel free to contact us anytime.  We will be more than happy to assist you.