Description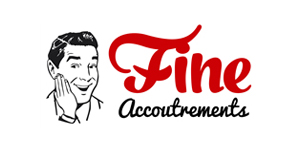 Fine American Blend Shaving Soap
Fine Accoutrements brings you their classic Fine American Blend Shaving Soap which is one of their more popular formulas.  For those who prefer shaving soaps instead of shaving creams, you will absolutely love this blend.  This company originated in 2005 after the need for better men's essentials was desired by Mr. Fine, Todd Cerami.  Mr. Fine started his accouterments line with an American Blend aftershave.  This company quickly ventured over to the other aspects of wet shaving which includs shaving soaps.
A shaving soap provides a different shaving experience compared to a shaving cream.  Due to the popularity of shaving creams, shave soaps are often times not as appreciated.  However, those who prefer a soapy, silky wet shave would appreciate the outcome of this Fine American Blend Shaving Soap.    Made with no artificial colors and milled for less water weight, you will get plenty of shaves out of one soap.
Although many items from Fine Accoutrements are created in the USA, this specific soap is made in Netherlands.  Netherlands produces some very high-quality shaving essentials.  Perfect for traveling and home use, this shaving soap will quickly be your favorite goto essential with its refreshing scent.  This scent will leave you tantalized for more even after your shave is complete.
This shaving soap comes in a 3.5oz (100g) puck.  The current active ingredients in the Fine American Blend Shaving Soap are as follows: Potassium Stearate, Sodium Stearate, Potassium Tallowate, Water, Potassium Cocoate, Sodium Tallowate, Fragrance, Sodium Cocoate, Glycerine, Potassium Hydroxide, Tetrasodium EDTA, Tetrasodium Etidronate, Sodium Hydroxide.
Get the old school barber feel like the old days with the Fine American Blend Shaving Soap.  As soon as you open the package, you will be happy you went with Mr. Fine.  In conclusion, just use your favorite shaving brush with Mr. Fine soaps and quickly realize how much better your wet shave is.