Description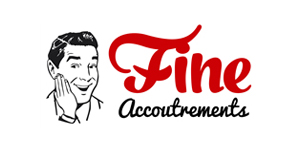 Fine Stout Shaving Brush
Love Fine Accoutrements?  Then you have to check out The Mr. Fine Stout Shaving Brush because this is a fantastic daily brush that performs.  Mr. Fine's inspiration from brush manufacturer, Simpsons, helped the company create their version of "chubby" style brushes.  This chubby style shaving brush has a beautiful white and red handle made of 100% solid resin.
Shaving brushes are a crucial tool to have in your shaving essential line of products.  The use of a shaving brush will reduce irritation on your skin by allowing the bristles to open up the pores before wet shaving.  To perform a wet shave appropriately, you will want to make sure your skin is warm from using hot water or a hot towel.  Once your skin is hydrated, make sure your brush bristles are also warm and ready for shaving cream or soap.
Fine stout shaving brush bristles are produced with synthetic angel hair. Synthetic brushes will build up lather quickly and produce an effective shave.  Those who prefer to have a vegan shaving brush, this will be your best option by far.  With the thick base of this brush, you will quickly be able to feel the soap or cream lather up and build up a solid foundation on your face.  This is a crucial step to wet shaving properly, especially if you are going to use a sharp and aggressive blade.
This Fine Stout Shaving Brush feels great in your hand the moment you pick it up. The stout will perform just as well as a synthetic compared to an animal-based badger brush. Synthetic brushes from Mr. Fine are always cruelty-free.
Many customers love the performance and affordability of this brush.  The Stout is an affordable brush and can be used daily. In addition to being affordable, it competes performance-wise with high-end shaving brushes that are 4 times the price.
In conclusion, add the Fine Stout Shaving Brush to your collection and enjoy wet shaving the "Fine" way.
Measuring in with a 24mm knot and a 50mm loft